Born Too Late

Shirt promoting the 2009 edition of the Festival.
Background information
Genre(s)
Doom Metal
Date(s)
April 26, 2003, August 1, 2009
Location
Rochester, New York
Venue(s)
The Steel Music Hall, The Bug Jar
Years active
2003, 2009
Promoter(s)
Born Too Late
Website
Wikipedia page
Born Too Late was a festival held primarily in Rochester, New York. It was billed as the first all doom metal festival to be held in the USA. Born Too Late was originally a website dedicated to doom metal music created back in late 1997 by John Gallo of Orodruin, Crucifist, Blizaro.
A second edition of the festival was intended for 2006 but was ultimately held in 2009 at The Bug Jar in Rochester, New York.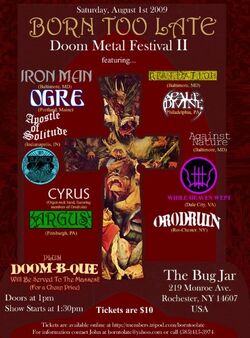 Community content is available under
CC-BY-SA
unless otherwise noted.