Black Flower Power is the tenth solo album (and only album to date billed as Brant Bjork and The Low Desert Punk Band) by desert rock musician Brant Bjork, released on 17 November 2014 to positive critical acclaim. The general sound of the record is much thicker and heavier than his previous efforts. It is also notable for the longest gap between Brant's solo releases at four years.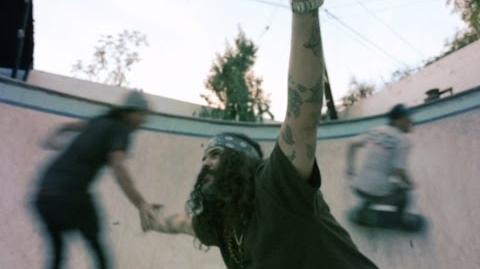 Between the release of his previous solo effort Gods & Goddesses and Black Flower Power, Bjork had mainly been busy with the short-lived Kyuss Lives! reunion which would later become Vista Chino. On 4 June 2014 it would be announced that Bjork had a new album in the works and had signed with Napalm Records.[1] However the previous bandmates he had worked with had moved on to other projects. Thus, Bjork would form the Low Desert Punk Band, consisting of Billy Cordell (Yawning Man), Bubba DuPree (Void) and longtime photographer Tony Tornay. Sometime after the release Tornay would leave the group with Ryan Gut as his replacement. Music videos for Boogie Woogie On Your Brain (10 April 2015) and Controllers Destroyed (28 May 2015) would be released to further promote the album.
Black Flower Power was released on limited Cd and vinyl in the following editions:
Green Translucent (Unknown Limited Amount)
Black Vinyl (Unknown Limited Amount)
Clear with Green Splatter (300 copies, mail-order exclusive)
Orange Translucent (200 copies, mail-order exclusive)
Neon Yellow (100 copies, mail-order exclusive)
Picture Disc (500 copies)
NOTE: Tracks 9 & 10 are exclusive to the CD edition.
1. Controllers Destroyed (5:10)
2. We Don't Serve Their Kind (4:13)
3. Stokely Up Now (5:04)
4. Buddha Time (Everything Fine) (3:21)
5. Soldier of Love (5:40)
6. Boogie Woogie On Your Brain (3:25)
7. Ain't No Runnin' (2:58)
8. That's A Fact, Jack (5:17)
9. Hustler's Blues (5:55)
10. Where You From, Man (8:12)
Brant Bjork - Guitar, Vocals, Mixing, Producer
Dave Dinsmore - Bass
Tony Tornay - Drums
Bubba DuPree - Guitar
Harper Hug - Recording, Mixing
Trevor Whatever - Recording, Mixing
Gene Grimaldi - Mastering
Alexander von Wieding - Artwork, Design
Community content is available under
CC-BY-SA
unless otherwise noted.