Black: Implication Flooding is a live album by Keiji Haino in collaboration with Boris. Recorded at 20000V in Tokyo on 30 August 1997 and released in October that year on indie label Inoxia.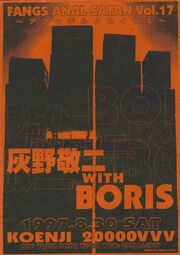 As part of Boris' FANGS ANAL SATAN live series the band performed live in a one-off improvised collaboration with Keiji Haino in August 1997, with Haino serving as the bandleader and Boris as backing musicians/improvisers. Originally the set had spanned over two hours (With the original recording even circulating among various trade circles) but the CD cuts down a significant portion of the show to specific edited cuts.
Following Haino's aesthetic of observational, nihilistic song titles and deconstructed drone sounds the sound here deviates into avant-garde, drone, freeform noise and open experimentation. Notably it also serves as Boris' first published collaborative effort.
1. "A Rise, A Moment Before Something Unexpected Is on the Verge of Starting" (15:24)
2. "Not Knowing If It Will Be Agony or Comfort for Us" (1:28)
3. "Wonder What Colour Would Be Suitable for the Dwelling" (1:50)
4. "The Decision of a Dream Which Will Never Be Completely Red" (2:12)
5. "It Should Be Watched, Not to Fail to Notice These Flashes of an Accusation from Inside" (9:58)
6. "Offer It All Up, Our Madness, That Will Be Crushed on This Land That Has Come to Be Called Chaos Unzipped" (11:43)
7. "From the Distance, With Their Own Gentle Eyes Always Fixed on Us, They Are Affectionately Gazing at the Black: Implication Flooding" (6:28)
8. "Don't Be Cheated by the Oozing Silt from Both of the Accuser and the Accused Which Is Always There, Saying 'Something Have to Be Done'" (11:07)
9. "The Person Who, What Is S/he Like, The One Who Has Been Determined and Prepared" (12:31)
Keiji Haino - electronic sruthi box(1,6), guitar (7,8,9), wave drum (5), ethnic oboe (6), vocal, marshall
Wata - guitar, echo, e-bow, orange, matamp
Ohtani - bass, vocal, ampeg
Atsuo - drums, vocal
Community content is available under
CC-BY-SA
unless otherwise noted.