Beauty For Ashes


Studio album by The Sabians
Released
May 28 2002
Recorded
November 2001
Genre
Stoner Rock, Hard Rock
Length
59:53
Producer
Alex Newport
The Sabians chronology
'Debut Release'
(N/A)
Beauty For Ashes
(2002)
Shiver
(2003)
Beauty For Ashes is the first of two albums by The Sabians. Recorded circa November 2001 and released May 2002 via The Music Cartel, it features two founding members of Sleep in Justin Marler and Chris Hakius in what would be their first recorded material together in a decade, last working together on the 1991 album Volume One. The band had signed to The Music Cartel on 31 May 2001[1] and would announce on 27 July 2001 that they would record in November with Alex Newport (Fudge Tunnel, Nailbomb), who had recorded with the likes of Melvins, The Mars Volta, Sepultura and At The Drive-In.[2] Following touring in the Fall with Totimoshi and two songs premiered in February 2002, the album would see release that May.
Beauty For Ashes would attain generally positive reviews from the likes of AllMusic,[3] Exclaim![4] and several other publications.[5] Beauty For Ashes would reach #3 on Metal Maniacs' top ten hard rock albums of 2002.[6]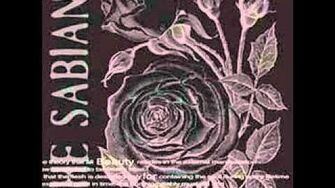 All songs written by Justin Marler and The Sabians.
1. Via Dolorosa (6:53)
2. Breathe (6:53)
3. Beauty For Ashes (6:57)
4. Restoration (6:58)
5. Black Lie (6:09)
6. Downcast (4:46)
7. Bleed (5:45)
8. Lull (15:32)
Justin Marler - Guitar, Vocals
Chris Hakius - Drums, Percussion
Rachel Fisher - Bass
Patrick Huerta - Lead Guitar
Alex Newport - Engineer, Producer
Community content is available under
CC-BY-SA
unless otherwise noted.