Obi-Wan Finale - The Loop
Play Sound
Baroness


Background information
Origin
Savannah, Georgia, USA
Genres
Sludge Metal, Progressive Metal, Progressive Rock
Years active
2003 - Present
Labels
Hyperrealist, Relapse, At a Loss, Abraxan Hymns
Associated acts
Unpersons, Valkyrie, Samhain, JAB, Johnny Welfare and The Paychecks, Trans Am, Weird War, Birds of Prey, Auroboros, Accursed Dawn, Karst, Misstallica, Queen Diamond, The Smashing Pumpkins
Website
Your Baroness
Baroness are a progressive metal/rock band from Savannah, Georgia. Active since 2003, this Savannah-based quartet has constantly evolved from a sludge/post-hardcore act in their early days to a band that is constantly evolving in rock dynamics. By the release of 2009's Blue the band embraced more of a progressive rock sound with subtle elements of post-metal, sludge and post-rock. Accentuating their ever-changing sound is guitarist/lead vocalist John Dyer Baizley's artwork on every release with goddess-like women and nature-based settings. Since the band has released albums in 2007, each album has a title and complimenting artwork in a color theme, beginning with that year's Red.
The band has achieved significant critical acclaim as their sound managed to evolve and their fanbase began to swell, eventually touring all over the world with a host of varying musical acts. Notably the band itself is also one of the key players in Georgia's sludge scene. Since their formation, Baroness has four studio albums to date with a fifth in the works.
History
[
]
Sludgy Beginnings and Red (2003 - 2007)
[
]
Baroness formed in the Summer 2003 in Savannah, GA, United States with all members, past and present, hailing from Lexington, VA in the foothills of the mighty Blue Ridge Mountains. Early on the band's sound resembled sludge with post-hardcore and thrash elements, Baizley and Summer Welch's vocals resembling deep, husky growls. While little is known about their earliest shows it is known the band would quickly sign to Hyperrealist for their First EP, released on 3 August 2004. Gaining a bit of a buzz early on, the band would release Second on 5 July 2005, with the band touring Europe and North America in support. Tim Loose would also leave the band soon after with Brian Blickle as his replacement. Following a tour with Torche in Europe, Baroness would begin work on new material including their debut studio album.
On 6 April 2007, Relapse Records would sign Baroness as they would go to the Jam Room, working with Phillip Cope (Damad, Kylesa) to record their debut album.[1] By 8 June the album had been completed.[2] In the meantime the band's "third" EP would be released as a split with Unpersons entitled A Grey Sigh in a Flower Husk (26 June 2007). This release, featuring two songs spanning nearly twenty minutes, displays more progressive elements as signs of a tonal shift began.
Touring through the summer with the likes of High on Fire, Coliseum and Witchcraft among others, Red Album would be released on 4 September 2007. Showing a major shift in musical tone with more progressive elements and cleaner vocals, Red Album would attain significant critical acclaim and even being named "Album of The Year" by Revolver Magazine.[3] Baroness would spend nearly the entirety of 2008 on the road in support of the album, touring with the likes of Kylesa, Young Widows, Converge, Coheed and Cambria, Ministry and Opeth among others. Brian Blickle would leave the band following the band's performance at Hovefestivalen on 23 June 2008, deciding to go back to school to pursue a law degree. The band would recruit Peter Adams (Valkyrie) as the band's new guitarist.[4]
The Sweetest Curse: Blue (2009 - 2010)
[
]
On 6 May 2009 after touring Europe (Including appearances at Scion RockFest, Roadburn Festival and Asymmetry Festival) Baroness announced that they would be in Dallas, Texas with producer John Congleton to record their sophomore album.[5] This would follow with a tour opening for Clutch, which they'd drop off from towards the end due to family concerns.
On 13 October 2009, Blue Record was released via Relapse. A record release show was hosted at The Jinx in Savannah on 17 October with Unnamed and Kylesa.[6] Drawing to more of a progressive metal sound with nature-based influences and a subtle sludge undertone, Blue Record would debut at #1 on the Billboard Heatseekers Charts and attain widespread critical acclaim. Holding a score of 87 on Metacritic[7], the band also gained high ratings from AllMusic (5 Stars)[8] and Pitchfork (8.5/10)[9] among other publications. By the end of the year (While the band was on a headlining tour of North America) Blue Record would be named Decibel's album of the year for 2009 and even the 20th greatest album in metal history by LA Weekly.[10]
In a similar fashion to the tour in support for the Red Album, Baroness would hit the road and tour the world over in support of Blue Record, but with some new locales along the way. The band would begin the touring cycle in Europe and then follow as part of the Soundwave Festival in Australia with ISIS, also performing in Japan for the first time with ISIS. By Spring the band had toured with Mastodon and made appearances at two of the biggest US festivals in Coachella and Bonnaroo. Following a host of European festival appearances in the summer, the band would be supporting Deftones through North America and then closing the year supporting Metallica on their Australia and New Zealand leg of their "World Magnetic" tour.
In an interview with Metal Insider, Baizley would speak about the process of what they wanted and the direction the band felt they were headed with Blue Record:
"
"(On the ambitious sound)I think that any musician who's interested in challenging himself has always got that stretch in mind. I think walking out of the studio from the last record we already knew 50% of the directions to stretch in. With the advent of Pete Adams as our second guitar player there was a whole new musical world that was opened up to us and we really tried to explore musically in that universe that existed as a conglomeration of the four of us. One of the most initial and basic ideas behind this record was to challenge ourselves, and in challenging ourselves we needed to try new things. We needed to put ourselves in situations that weren't necessarily comfortable or easy to deal with. Areas that our technical expertise was lacking or the overall weaknesses of the band, we tried to develop them and turn them into competencies or strengths. I think that's where some of the disparate sounds come from, just our disparate interests and just a common goal that we wanted to continue to keep open minds when writing, performing and making music within this band.

(On the influences and sequencing)There were a couple old ones, I don't like to use some of the more modern bands as templates or starting points. I like to go back towards the classics. I think a lot of those classic albums have become the archetypes and kind of set the bar. That said, we work within that context: there are two guitars, bass, drums, and vocals and that's about as standard as it gets, so given those structures and relative confines of working with that type of a band, we try to explore within and find something interesting to do. As far as reference points, we use them very loosely. With the last record, I based the sequencing of the record on a couple records I considered classics at the time. With this one it wasn't so much a sequencing thing, the goal was to create an unintentional subconscious narrative in the way that some of our favorite bands had done. One of my favorite and most listened-to records during the writing process was Queen's A Day at the Races. That's a polarizing record. Not everybody likes it, but I think it's absolutely put together in such a genius way. Despite the fact that it's a collection of rock-n-roll songs and dramatic almost vaudevillian type-stuff, there's this narrative and cohesion to that record that really struck me as something that hasn't been developed in recent years that I'm aware of. There's like a framing to it, like a storytelling aspect almost like you're listening to a movie score. That was the starting point, where we said 'hey let's do that instead of writing a bunch of singles.'

We feel like that's the way our music is best listened to. The sequencing of both the Blue Record and the Red Album were pretty solid before we recorded either one of those records. In a way, its kind of limiting because there's no guesswork there with the sequencing but it also allows, most specifically with this record, to really understand those gaps. I think the gaps are where the real magic happens. My favorite part of the set, after touring on albums for years and years, is what we do unintentionally in between songs and we really tried to allow some of that to seep onto this record, some of that unintentional, unscripted, unrehearsed stuff. I think it helps tie everything together and it's just a testament to how solidly we believe in the album as a medium.

I absolutely would score a film. There's a really cool history with musicians scoring films. One of the real direct influences to the album was the Neil Young score to Dead Man which was a sparse thing very much in that sort of country western theme. Something like that is really a different medium and it forces you to inspect things, and that's the methodology of the record. We kind of overwrote the record, in a sense that if something felt redundant or was dragging part of that unintentional narrative along too much, even if it was a great song, we decided to leave it off the record in favor of continuity."

"
 

— John Dyer Baizley, Metal Insider
Take My Bones Away: Yellow & Green (2011 - 2014)
[
]
Baroness would take most of 2011 off to begin work on their third album, only performing a couple dates through the entirety of the year (Chaos in Tejas and Best Friends Day). At some point in 2012, Summer Welch would leave the group with Matt Maggioni as his replacement. On 11 April 2012, the band would announce their first details on their new album, including it being a double-album and a release date. On 17 July 2012 Yellow & Green would be released, peaking at 32 on The Billboard 200 with 12,000 copies sold in it's first week. The album would get favorable reviews, overall an 82/100 score on Metacritic.
On 15 August 2012 during the tail end of the band's European tour Baroness' tour bus would veer off the road and plunge thirty feet, crashing near Bath, England. At the time of the crash, the driver and passenger were trapped in the vehicle for several hours while the remaining passengers (nine in all, including the band) were all injured in some capacity.[11] Two days later further details on whom was injured in the crash would be revealed. Peter Adams suffered minor injuries but was able to leave the next day. Matt Maggioni and Brian Blickle both suffered fractured vertebrae, remaining in the hospital for several days. Lastly, John Baizley had suffered a broken left arm and left leg due to being in the passenger's seat (The driver himself also suffered major injuries and remained in critical condition for several days).[12] On 27 August 2012 all members of the band were released from the hospital, also canceling the remaining live performances of 2012 (Including appearances at House of Vans, FYF Fest, Hopscotch Music Festival, Fun Fun Fun Fest and a headlining appearance at Doomslang.[13]
On 2 October, John Baizley would issue details on the bus crash on Baroness' official page:
"
"On August 15th, just before 11 am, Baroness and our crew were involved in a very bad crash while on tour. The brakes in our bus failed completely, on a notoriously dangerous, incredibly steep (12% grade) hill in Monkton Combe, UK, on our way from a show Bristol to another show in Southampton. Our bus went entirely out of control, and we had no choice other than hitting a perpendicular guardrail going about 50 mph at the bottom of the hill. The guard rail and the 20 or 30 trees we ploughed through snapped like matchsticks as we went fully airborne and fell down more than 30 feet off of a viaduct to the ground below. Half of the band/crew were asleep while we lost our brakes, and a few of us were awake and sitting in the rear lounge. I was up front with our driver, and I bore witness to the entire thing. Once our brakes failed, the bus could do little more than gain momentum and plummet down the hill. There was nothing anyone on the bus could have done during our descent to avoid the crash, and no one, the local residents, the police or any of us can believe we survived the impact.

Most people who have been in accidents understand the pre-trauma sensation of time slowing down. There were almost two minutes during which I knew we were heading for a collision. It felt like two hours. I remember the sound of the air-brakes failing, and the panicked cursing of our driver as we slowly realized how desperate the situation was. I tried as hard as I could to yell and wake everyone up to prepare for impact. I remember the sounds of confusion from behind me as our collective terror rose. I remember seeing the guardrail split, then a cluster of trees smacking against the front windshield. While we were airborne my eyes met with our drivers. I knew then that we each shared the same look on our face; and I wont soon forget it. We had spent enough time in the air to appreciate, make peace with and accept a fate we thought inevitable, and we looked at one another with a horribly silent "goodbye" in our eyes.

When the bus hit the ground, I flew like a missile into the windshield. I can still see the double-paned auto glass turning blue and the spider-webbing cracks spreading outwards from the impact my body made. I hit the glass so hard, that the entire windshield flew from the frame to the ground, and I bounced back inside the bus. I landed on the ledge of the windshield. This came with an immediate and overwhelming pain throughout my body. I surveyed the damage to see instantly that my left leg was very obviously and badly broken. Then I lifted my arms forward to see if either had been damaged. My right arm was covered in burns, blood and broken glass, but working well enough. My left arm was crushed beyond belief, broken in the middle of the bone in my upper arm (humerus), and hanging 90 degrees backwar ds, with many spurs of bone poking through muscles and sinew at the surface of my skin. The bone was shattered into seven free-floating pieces, and my wrist and hand were swinging behind my back, spasming freely. Instinctively, I reached behind my back, grabbed my wrist and re-broke my arm forwards, hugging it to my chest, where it remained for the next three hours until it was cast in plaster. Meanwhile, I watched as some of the band was able to get off the bus and help the others, many of whom were broken-up as well, and several of whom were unconscious. There was blood, glass and diesel fuel everywhere.

We were all rushed to the hospital in Bath, and treated for our various injuries, broken arms, legs, vertebrae, bruises, cuts, etc. Our driver was air lifted to a separate hospital with many breaks as well. A few of us had to remain in the hospital for a few days, I was hospitalized for two weeks, following an eight-hour surgery in which my arm was rebuilt with the aid of 2 massive titanium plates, 20 screws and a foot-and-a-half of wire. The 15? incision took almost 50 staples to close up. I was left completely immobilized for the remainder of my hospital stay, able to do next-to-nothing on my own and in need of constant care. Following those excruciating first two weeks, I was quite literally stuck in an apartment for another three weeks with my family while waiting for my doctor to allow me to safely board an airplane, for fear of bloodclots and swelling. I have just this past week returned back to the US and my home, where I am wheelchair-bound for another several weeks of physical therapy, learning to use my arm and leg again.

While I cannot lift a glass of water to my lips to drink with my left arm and hand, I am still able to play music with it. I picked up a guitar and played the day after I returned. Not without pain (for the time being), but the hand still acts out the creative impulses I give it. Im told I was quite lucky to have regained any use at all of my hand and arm, though I have sustained quite extensive nerve damage. In spite of this and against my logic and reason, when I pick up an instrument, my hand remembers exactly what to do. Its far from perfect, and will require a lot of therapy in order to recover mobility and strength, but I am encouraged by the ability I have been allowed. I do not believe in superstitious signs, but I am truly overwhelmed to have been granted the continued use of my hands.

As a result of the crash, I feel encouraged not only to recover, but to move forward with Baroness, as we had been doing every day previous to August 15th. This accident has inflicted an injury which has left its mark on the band: physically, mentally and spiritually. In order to rehabilitate ourselves fully, we must work towards and then past the goals we had prior to the accident. I will consider our immediate recovery a success only on the day we plug back in to play another show.

We cannot allow this accident, which I believe is unrelated to the band or our music, to slow down or stifle what has become so much more than a passionate hobby for the four of us. Through Baroness, we have discovered a method by which we may harness our drive to create, and channel all the emotion, anxiety and pain in our lives into something constructive. Music is the universal means of communication we have chosen to express ourselves. Our message has never been one of the absolute positive or negative, neither black nor white. True life occurs within the shades of grey, and I see this experience form that perspective. It seems only fitting to me that we continue working towards creating and performing again as soon as possible, as this band and its music are the vehicle through which we grow as individuals, artists and brothers. The injury the band suffered is an injury to my family and loved ones. Rather than allow it to become a wedge that forces us apart, I would like to see this experience become part of the glue that strengthens us. We have only begun to accomplish what we set out to do through this band. There is so much more to say, and though we do need to heal up a bit; we will not allow any of those things to be left unsaid.

I have no regrets about touring. I dont blame music or the touring lifestyle for my current physical state, or for the accident itself. It happened the same way all things happen: randomly. If I was a carpenter, and I was injured on the way to the job-site, I wouldnt consider quitting my job. That is truly how I see this situation. Baroness doesnt stop because we got hurt on the way to work. We love what we do much more than that, and we have chosen this path because it offers us an unpredictable adventure. With any adventure that involves travel, and with any real passionate pursuit, one will occasionally come face-to-face with the reality of living on the other side of the yellow line. I didnt choose to be a musician in order to live a risk-free life, safely avoiding bumps and bruises. I didnt choose to play music because it seemed like a simple opportunity to make some quick cash. Nor did I ever make the assumption that things would get easier as we progressed.

We can do nothing but attempt to make something constructive and beautiful out of all this disaster, and we are well on the way to becoming active again. I have used this time, stuck inside my own head, to consider the importance of music and Baroness in my life. I can say, after nearly 6 weeks of reflection, that I feel more resolute and passionate about our music than ever. I have come to realize the importance of time in this particular equation, that is, I have none to waste and none to spare. There is no better moment than now, broken and in physical stasis, to devote ourselves more fully towards our art than ever. We cannot allow the traumatic fallout of our crash to cripple us internally. It seems simple: the shows we have cancelled we will reschedule and play in the future. It isnt going to happen next week nor will it be next month. But it will happen. We will be back on tour as soon as we possibly can.

There was one moment in the crash that cut me deeply. For one heartbeat and one tiny sliver of time, I became disconnected entirely. It was, specifically, the moment I impacted with the glass. In that barest heartbeat of a moment, I came face to face with the infinite. I didnt see a light, or the tunnel or hear any music. Nor did I get a "best-of" montage of my life. Instead, I felt the tip of my nose brush up against the very same fate I had accepted moments before. I looked into a cold, unreflective mirror. It was the dark, silent, dispassionate logic of the end. I realized in that moment that life can be seen as a light switch: "on" or "off". When the moment passed and I heard the screaming, felt the pain, and tasted my own blood, I was overcome with joy. I was ecstatic to be back amidst all that chaos and horror because it was alive and real. I finally glimpsed the relative importance of all things. The support of our fans, our friends and our families has real meaning to me now. I say that now honestly, without false humility. Thank you. Everyone.

Till the wheels fall off . . ."

"
 

— John Dyer Baizley and Baroness, Official Statement

[14]
During the time of recovery, Baroness would announce a host of shows for the summer. John Baizley performed an acoustic set and artwork exhibition on 14, 15 and 16 March 2013 at SXSW in Austin, Texas. In addition, Baroness made plans to perform at festivals such as Chaos in Tejas, Free Press Summer Festival and Heavy MTL in Montreal, Quebec. However on 25 March 2013, Maggioni and Blickle both left the band largely due to the injuries sustained from the crash.[15] On 1 April 2013 the band announced a North American tour with new members Nick Jost (Bass) and Sebastian Thomson (Drums), with the band's first date back on the road being on 24 May at Union Transfer in Philadelphia, PA. The band's 2013 North American tour would also see appearances at Bonnaroo, Lollapalooza, FYF Fest and Bumbershoot. The fall would see a return to Europe with Royal Thunder. The band's touring cycle for Yellow & Green would finish in early 2014 as part of the Soundwave Music Festival in Australia alongside Mastodon and Gojira. Following those shows, work would begin on a new album.
Morningstar: Purple and Gold and Grey (2015 - Present)
[
]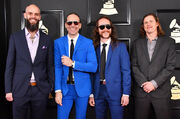 On 28 August 2015 during a tour of Europe, Baroness would premiere a new song in "Chlorine and Wine" along with announcing their fourth studio album. The album was produced by Dave Fridmann (The Flaming Lips, MGMT) at Tarbox Road Studios in the secluded town of Cassadaga, New York and would be released on their own label imprint Abraxan Hymns.[16] The second single from the album, "Shock Me," was released on 15 November 2015 and it reached #28 on the Mainstream Rock Tracks chart in the US.
Purple would be released on 18 December 2015 to widespread critical acclaim and overall an 85/100 score on Metacritic. The album was included at number 23 on Rock Sound's top 50 releases of 2015 list and at number 7 on Rolling Stone's Best Metal Albums of 2015 list. Baroness would tour all over the world in support of Purple throughout 2016 including Europe, Mexico, Canada, The United States and Australia.[17] On 6 December 2016 it would be announced that the song "Shock Me" would be nominated for "Best Metal Performance" at the 2017 Grammy Awards (Though ultimately it would lose out to "Dystopia" by Megadeth).[18]
2017 would see some changes for the band along with some unique performances, mainly starting the year with a string of performances leading up to a return appearance at Roadburn Festival (With Baizley as that year's curator.). It would also prove to be one of the final performances for Peter Adams in the group as it would be announced on 1 June 2018 that he left the group amicably to focus on family life.[19] The band would recruit Gina Gleason as their new lead guitarist and vocalist going into a headlining tour with Pallbearer, a tour of Europe and an appearance at OzzFest Meets KnotFest. With a host of announced appearances (Rock on The Range, Carolina Rebellion, Heavy Montreal) among touring the band had begun recording a new album on 15 June 2018, set for either a late 2018 or early 2019 release.[20]
On 12 March 2019 the band would unveil the full art for their fifth studio album Gold & Grey with a release date yet to be determined:
"
"Here is the full cover painting for our new album, Gold & Grey. This is just the first piece of a much larger puzzle. Like the forthcoming album itself, it is the result of an intense, tireless, and psychotically convoluted creative process. Both artistically and musically, Baroness have always taken a no compromise approach towards our releases, and I can't express strongly enough how excited we are to be so close to the verge of our newest release. This painting was born from a deeply personal reflection on the past 12 years of this band's history, and will stand as the 6th and final piece in our chromatically-themed records. It has been an absolutely wild ride, a truth much stranger than fiction, with nearly as many low points as there have been highs, but throughout all, this band has offered me an inspired place to express myself and find some level of comfort through our visual and sonic output. I hope you all enjoy this album cover (sorry it's not called Orange). Don't look too closely, you might just see all the hidden elements. We want to thank everyone for your heartfelt support over the years, it means the world to us. We also appreciate your continued patience. Gold & Grey will be out soon, and then the real fun begins. I assure you, we have no plans to slow down anytime soon.

'Til the wheels fall off - - - Roy G. Biv"

"
 

— John Dyer Baizley and Baroness, Official Statement

[21]
With Gold & Grey attaining positive reception, Baroness would compose a world tour throughout 2019 though 2020 touring would be postponed due to the CO-VID19 Pandemic. On 29 September 2021 Baroness would announce the Your Baroness Tour, a special intimate tour where ticket buyers would vote on the setlist each night from a selection of eighty songs.[22]
Discography
[
]
Studio Albums
[
]
Red Album

(2007, Relapse)

Blue Record

(2009, Relapse)

Yellow & Green

(2012, Relapse)

Purple

(2015, Abraxan Hymns)

Gold & Grey

(2019, Abraxan Hymns)
Other Releases
[
]
First

(EP) (2004, Hyperrealist)

Second

(EP) (2005, Hyperrealist)
High on Fire/Coliseum/Baroness (Split with High on Fire, Coliseum) (2007, Relapse)

A Grey Sigh in a Flower Husk

(Split with Unpersons) (2007, At A Loss Recordings)
Live at Maida Vale (Live Album) (2013, Relapse)
Members
[
]
Current Members
[
]
John Dyer Baizley – Rhythm Guitar, Lead Vocals, Artwork (2003 - Present)
Gina Gleason - Lead Guitar, Vocals (2017 - Present)
Nick Jost - Bass (2013 - Present)
Sebastian Thomson - Drums, Percussion (2013 - Present)
Former Members
[
]
Allen Blickle – Drums (2003 - 2013)
Summer Welch – Bass, Vocals (2003 - 2012)
Tim Loose – Guitar (2003 – 2005)
Brian Blickle – Guitar (2006 – 2008)
Peter Adams – Lead Guitar, Vocals (2008 - 2017)
Matt Maggioni – Bass (2012 – 2013)
List of Known Tours
[
]
2005 European Tour (With Capricorns) (2005)
2005 North American Tour (2005)
2006 European Tour (With Torche) (2006)
2007 Summer Tour (With High on Fire, Coliseum) (2007)
Red Album North American Tour (2007)[23]
2007 East Coast Mini-Tour (Select dates with

Radio Moscow

, Witchcraft) (2007)[24]
March 2008 North American Tour (With Young Widows) (2008)[26]
Lions For Lambs (With Converge, The Red Chord, Genghis Tron) (2008)[27]
May 2008 North American Tour (With Coheed and Cambria) (2008)[28]
June 2008 European Tour (Select dates with Ministry) (2008)
Aggressive Tendencies (With Genghis Tron, Bison B.C.) (2008)[29]
Fall 2008 North American Tour (With Opeth, High on Fire) (2008)[30]
November 2008 North American Tour (With Minsk, Coliseum) (2008)[31]
2009 European Tour (2009)[32]
Strange Cousins From The West North American Tour (With Clutch, Lionize; Baroness dropped off from some dates) (2009)[33][34]
Blue Album North American Tour (With Earthless, U.S. Christmas, Iron Age, Dark Castle) (2009)[35]
Blue Album European Tour (2010)[36]
Blue Album Australian Tour (As part of Soundwave Festival, individual dates with Oren Ambarchi) (2010)
2010 Japan Tour (With ISIS) (2010)
Blue Record Summer European Tour (2010)
Diamond Eyes North American Tour (With Deftones) (2010)[38]
World Magnetic New Zealand/Australian Tour (With Metallica, Lamb of God) (2010)[39]
The Ophidian Trek (With Meshuggah, Decapitated) (2012)[40]
Yellow & Green European Tour (2012)[41]
Yellow & Green North American Tour (First Leg) (2012)[42]
Yellow & Green North American Tour (Second Leg) (2012)[43]
Yellow & Green 2013 European Tour (With Royal Thunder) (2013)[44]
Purple European Tour (2015)[46]
Purple North American Tour (2015)[47]
Purple 2016 European Tour (2016)[48]
Purple 2016 North American Tour (2016)[49]
2016 North American Tour (With Pallbearer) (2016)[50]
2018 European Tour (2018)[51]
2019 Spring North American Tour (With Deafheaven, Zeal and Ardor) (2019)
2019 South American Tour (2019)[52]
2020 Download Festival Australasia Tour (With Deftones) (2020)
2020 North American Tour (With Against Me!, Destroy Boys, Drug Church; Canceled) (2020)[53]
2020 European Tour (Canceled) (2020)
Your Baroness Tour (2021)[54]
Your Baroness Tour (2022)[55]
External Links
[
]
References
[
]