Avon

Avon in 2020.
Background information
Origin
California, USA
Genres
Heavy Rock, Stoner Rock, Desert Rock
Years active
2015 - Present
Labels
Spira, H42 Records, Heavy Psych Sounds
Associated acts
Across The River, Yawning Man, The Sort Of Quartet, Kyuss, Queens of the Stone Age, The Desert Sessions, Orquesta del Desierto, Ché, Brant Bjork, Lakota, Waxy, Vic du Monte, Airbus, Darkside, Biblical Proof of UFOs, The Guns, Stoney, Bodeans, Dupree
Website
Avon Facebook
Avon are a heavy/desert rock band based out of the Southern California area. Forming in 2015, it would be initially a trio featuring James Childs (Airbus), Charles Pasarell (Waxy) and Alfredo Hernández (Across The River, Yawning Man, Kyuss, Queens of the Stone Age, etc.). The trio would regularly tour Europe along with the occasional show in California, releasing two albums and two singles.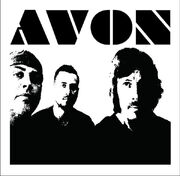 Avon formed in July 2015 with the founding lineup of Childs, Pasarell and Hernández. Childs and Hernández had previously played together in Vic du Monte's Idiot Prayer while Childs has worked on soundtracks for film and television, along with collaborating with the likes of Portishead and Philthy Animal Taylor to name a few. Pasarell, had also been involved with the Desert Rock scene for years, playing with Lakota and Waxy, had supported the likes of Volbeat and Kyuss Lives!.
Following a short tour of Europe and shows in California the trio quickly composed and released Mad Marco on 24 February 2016 via Spira Records. The band would tour Europe twice in 2016 to support the album and then return to Europe to further support the album surrounding appearances at Desertfest London and DesertFest Berlin.[1] The band would release a single entitled Six Wheeled Action Man Tank via German label H42 Records on 30 April 2017.[2]
On 10 November 2017 it would be announced that Avon had signed with Italian label Heavy Psych Sounds to release their second album.[3] Dave's Dungeon would see release on 23 February 2018 with the band touring Europe to support it. The band would resurface in 2020 now as a quartet with Childs, Pasarell, Scott Silverman and Kyle Thompson. This new lineup would release a new song in "Man of Medan" on a split 7" with Waxy. This new lineup was intended to tour in 2020 but would cancel due to The CO-VID19 Pandemic.
James Childs - Guitar, Vocals (2015 - Present)
Charles Pasarell - Bass, Backing Vocals (2015 - Present)
Scott Silverman - Guitar (2020 - Present)
Kyle Thompson - Drums, Backing Vocals (2020 - Present)
Community content is available under
CC-BY-SA
unless otherwise noted.