Australian Tour EP 2008 is an EP/compilation released by Mondo Generator. This six track EP contains a mix of studio, acoustic and live material, released to coincide with the band's first Australian shows circa August 2008.
"Lie Detector" comes from Dead Planet: SonicSlowMotionTrails while "Autopilot" is from Demolition Day. "You Can't Put Your Arms Around a Memory" is a Johnny Thunders cover largely exclusiv to the compilation and performed in acoustic. The last three tracks are live, the cover of "Eccentric Man" being performed at the 2004 edition of Reading Festival while the last two songs come from a 2003 performance at The Troubadour.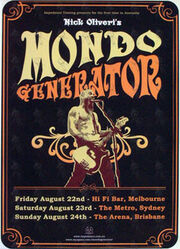 Tracklist
Edit
1. Lie Detector (Oliveri, Dahlia, Diamond)
2. You Can't Put Your Arms Around a Memory (Johnny Thunders)
3. Autopilot (Acoustic) (Oliveri, Josh Homme)
4. Eccentric Man (Tony McPhee)
5. Unless I Can Kill (Oliveri)
6. Simple Exploding Man (Oliveri)
Personnel
Edit
Nick Oliveri - Guitar (1 - 3), Bass (1, 4), Vocals (All)
Marc Diamond - Lead Guitar (1, 4)
Hoss Wright - Drums (1)
Mark Lanegan - Vocals (3)
Michael Jobson - Guitar (3)
Josh Lamar - Drums (4)
Brant Bjork - Drums (5, 6)
Dave Catching - Guitar (5, 6)
Molly McGuire - Bass (5, 6)
External Links
Edit
References
Edit
Community content is available under
CC-BY-SA
unless otherwise noted.