Asylum


Background information
Also known as
Obstination, Unorthodox (1990 - Present)
Origin
Silver Springs, Maryland, USA
Genres
Doom Metal, Psychedelic Rock, Progressive Rock, Art Rock, Rock and Roll
Years active
1981 - 1990
Labels
Shadow Kingdom Records
Associated acts
Unorthodox, Earthride, Revelation, Internal Void, Iron Man
Band Logo
Asylum
were a doom metal band from Silver Springs, Maryland, USA.
Conceived in 1981 by Ron Kalimon and Dale Flood, this doom metal act is best known for being key players in the beginnings of the 1980s Maryland doom scene along with The Obsessed. Along with incorporating a doom metal sound in the vein of early Black Sabbath, this group also incorporated sounds of rock and roll in the vein of Motörhead while also incorporating art rock, psychedelic rock and progressive rock elements.
Asylum would essentially serve as a pre-cursor to Unorthodox, eventually becoming that band by 1990.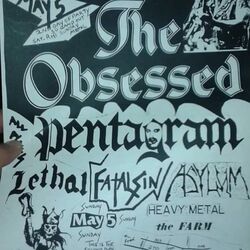 Asylum were founded in 1981 by Dale Flood, Ron Kalimon and Earl Schreyer. The band largely first bonded over their shared interest in the definitive works of Black Sabbath, and the massive distortion and don't-give-a-fuck ethos of Motörhead (plus some subliminal '70s art rock concepts, as well). The band performed mainly in Maryland along with the likes of Death Row, Pentagram, Saint Vitus, Trouble, The Mentors and The Obsessed. By 1985 the band began recording their first demos, notably 1985's The Earth Is The Insane Asylum of the Universe. Roughly around 1987, Josh Hart would join the group on bass as the band performed more shows in Maryland.
Around 1990 however another band named Asylum actually attained some degree of mainstream success, prompting a name change. After a short period of time as Obstination the band would eventually christen themselves as Unorthodox in 1990 with the inaugural lineup of Kalimon, Hart and Flood. Many of Asylum's songs would be properly recorded for Unorthodox's albums (A situation similar to The Obsessed and Spirit Caravan or Pentagram and Death Row). "Unseen World", "Forgotten Image" and "Asylum" would all appear on Unorthodox's debut album Asylum while "Well Aware", "Motherless", "The Gate", "Zombie Dance", "Maimed and Slaughtered" and "Unorthodox" would appear on 1994's Balance of Power.
Asylum (Flood, Kalimon and Schreyer) did reunite for a one-off show in 2007[1], while The Earth Is the Insane Asylum of the Universe was reissued by Shadow Kingdom Records in December 2008. Ten years later, Shadow Kingdom would follow up with another Asylum reissue in 3-3-88, a reissue of the band's 1988 demo on 28 September 2018.[2]
Discography
Edit
Demo 1985 (1985, Self-Released)
The Earth Is the Insane Asylum of the Universe (1985, Self-Released; 2008, Shadow Kingdom Records)
Demo 10-10-86 (1986, Self-Released)
Demo 1987 (1987, Self-Released)
3-3-88 (1988, Self-Released; 2018, Shadow Kingdom Records)
Dale Flood - Guitar, Vocals (1981 - 1990, 2007)
Ron Kalimon - Drums (1981 - 1990, 2007)
Earl Schreyer - Bass (1981 - 1987, 2007)
Josh Hart - Bass (1987 - 1990)
External Links
Edit
References
Edit
Template:Unorthodox
Community content is available under
CC-BY-SA
unless otherwise noted.