Alunah

The current lineup of Alunah.
Background information
Also known as
Aluna (2006 - 2007)
Origin
West Midlands, Birmingham, England
Genres
Doom Metal, Doom Rock, Hard Rock
Years active
2006 - Present
Labels
Catacomb, PsycheDOOMelic, Napalm, Svart, Heavy Psych Sounds
Associated acts
Bear Legs, Diamond Head, Godsize, Sonic Lord, General
Website
Alunah Official
Current members
Jake Mason
Dean Ashton
Dan Burchmore
Siân Greenaway
Past members
Andy
Gaz Imber
Sophie Day
David Day
Band Logo
Alunah are a doom metal/doom rock band originating from Birmingham, England. Forming in 2006 as Aluna before a slight name change the next year, Alunah perform doom metal and hard rock while merging elements of classic rock and psych rock. Described by Decibel Magazine as "heavy music rooted in the tradition of Saint Vitus, but the focus isn't so much on brute force but grace", the band managed to make an impact in the UK doom scene as one of a new generation of modern doom bands.
To date the band has released five studio albums amid a host of other releases, along with touring all over the United Kingdom and Europe.
Fall To Earth and Call of Avernus (2006 - 2011)
Edit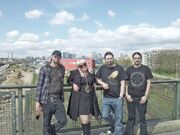 Aluna would form in 2006 with the founding lineup of Jake Mason, Andy Barnett and couple David and Sophie Day. Little is known of the band's time under this name except a single demo under the "Aluna" name Crystal Voyage released in 2007. By that year the name was slightly changed and the group would go on to perform their debut show at The Jug of Ale on 23 May 2007, supporting Asteroid and Outburst. Through that year and the next the band would perform with the likes of Trouble, Paradise Lost, Grifter, Taint and Blood Island Raiders. Early on the band would release an EP entitled Fall To Earth, a single for Song of The Sun and a split CD with Queen Elephantine. In 2009 the band would embark on a short tour with Doomraiser. With more frequent gigs the band began to build a positive reputation in the UK scene. The band would recruit a new bassist in Gaz Imber that same year.
In an interview with The Sludgelord, Sophie Day explains the band's beginnings:
"
"We started in 2006 by accident really, Dave (who's also my husband) used to play in a band called Sonic Lord and we always used to see this couple at their shows. During one of my drunken episodes I started chatting to them and kind of signed Dave up to have a jam with the guy (who is now our drummer Jake). I went along with him, tried some vocals out and the band was born. Gaz replaced our previous bass player in 2009, and we met him from playing gigs with his other band General."
"
 

— Sophie Day, The Sludgelord

[1]
Working with Greg Chandler at Priory Studios in Canwell, Alunah would record their debut album. Ultimately Call To Avernus would see release via Catacomb Records on 6 December 2010, gaining positive buzz.[2][3] Around that time the band performed with the likes of Sun Gods In Exile, Lord Vicar and a reuniting Sally among others.[4] 2011 would see the band touring with Sally while also performing with the likes of Sons of Alpha Centauri, Karma to Burn, Acid King, Serpent Venom and Firebird to name a few.[5]
White Hoarhound and Awakening The Forest (2012 - 2014)
Edit
Through the winter of 2011 and 2012 Alunah would return to Priory Studios with Greg Chandler for the follow-up album, with the next album being mastered by Tony Reed (Mos Generator) at HeavyHead Recording in Seattle. The band performed a handful of gigs going into 2012 including an appearance at the inaugural Desertfest London.
White Hoarhound saw release on 3 September 2012 to generally positive reviews[6][7][8], with a release party on 17 August 2012.[9] Notably White Hoarhound would be released by PsycheDOOMelic Records and the final release on the Austrian label. To support the new album, Alunah would embark on their first shows outside of the UK with a tour of Europe, including appearances at Desertfest Berlin and Heavy Days in Doomtown, closing out the year with an appearance at Hard Rock Hell. In an interview with The Sludgelord, Sophie Day would talk about the writing process for White Hoarhound and it's meanings:
"
"I think there's a lot of melancholy on this album, probably a lot of it subconscious. This is the first time I've explained the idea behind the name and title track, the name was originally conceived in Llandudno in North Wales. Dave (our lead guitarist and my husband) and I were there on holiday and my Dad had recently been diagnosed with lung cancer.

We went up the Great Orme which is a huge, beautiful headland which I've been going to since I was in the womb! We were reading some info about the plants which were natural to the area. White Hoarhound (normally spelt White Horehound) was one of them and was used by the monks to treat coughs and general lung conditions. In my head there and then I wrote the song.

It seemed so apt to my current situation fueled by my interest in mother nature, and was just a great name. After chatting to the guys we decided that was the name of the album. That's the only personal song on the album, and perhaps the most emotional. The rest of the songs are about moments in English pagan history and just generally about witchcraft, sacrifice, myth and magic. I love reading about those subjects, I can escape into a different world and it helps explain things to me - I suppose in a way other religions do to other people."

"
 

— Sophie Day, The Sludgelord

[10]
On 19 December 2013 it would be announced that Alunah had signed a worldwide deal with Napalm Records.[11] Prior to the signing Napalm would reissue White Hoarhound on vinyl. Like the previous album Alunah would record at Priory Studios with Greg Chandler, with mastering at HeavyHead Recording. Following a May mini-tour the band would soon release their third album Awakening The Forest on 3 October 2014 to fairly positive reception.[12][13][14][15] Alunah would tour Europe in support of Awakening The Forest, sharing the stage with the likes of Lonely Kamel, The Order of Israfel, Brant Bjork, Conan, Mars Red Sky, 1000mods, Brain Police and Valley of The Sun among others.[16]
Solennial (2015 - 2017)
Edit
Alunah would perform sporadic shows in 2015, largely in the United Kingdom though the band would venture out to Ireland and Wales along with an appearance at Bloodstock Open Air. 2016 would see largely festival appearances, namely Doom Over London and Into The Void. Working with Chris Fielding and Skyhammer Studios in England (Though longtime engineer Greg Chandler would handle the mastering), along with signing to Svart Records, work would begin on a fourth studio album. Vocalist/guitarist Sophie Day handled most of the direction as to how the record would play out, along with suggesting a cover of "A Forest" by The Cure, in their ten-day recording session for the album.[17]
Solennial was released via Svart Records on 17 March 2017 to critical acclaim from the likes of The Obelisk,[18] Distorted Sound Magazine,[19] Wonderbox Metal,[20] Antichrist Magazine[21] and Louder Sound[22] among many others. Alunah would tour the UK in support of Solennial. Two gigs in England with Acid King would follow that July, notable as they would be the last gigs for original vocalist Sophie Day who would depart from the band that September in the following statement:
"
"When we started Alunah I never realized how huge a part of my life it would become, how many wonderful people I would meet and establish lasting relationships with, how much music we would write and release, how much support we would get from labels and press, how many countries we would visit and how many of our favorite bands we would share the stage with. It has been my comfort blanket through personal trauma and have been moved when told how much our music has affected some of you guys. It has been amazing. However, there are other avenues I want to explore, both musically and in my personal life, and I can no longer give my all to Alunah, nor would it be fair to try and force Alunah in the direction I would like to go in. I continue to support the guys with design and marketing and of course through Dave's and my label Catacomb Records, who have just co-released "White Hoarhound" with HeviSike Records. I wish Dave, Jake, Dan and my replacement(s) the best of luck for the future, and I thank every single one of you for your support over the years. It's been a trip."
"
 

— Sophie Day, Alunah Official

[23]
Violet Hour (2018 - Present)
Edit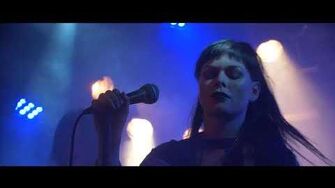 Following Sophie Day's departure auditions would be held for a new vocalist. On 2 November 2018 it would be announced that the band had found a new vocalist in Siân Greenaway, with her first performance with the band taking place on 27 November at Mama Roux's in their native Birmingham, supporting Royal Thunder.[24] Alunah would tour Europe that May surrounding appearances at Northern Discomfort and Fuzzy Sounds Festival.[25] On 1 August it had been announced that Alunah had recorded an EP at Skyhammer Studio, the first recorded material with Greenaway.[26] On 11 September the band would unveil the artwork for this EP along with announcing fall dates which would include an appearance at Doom Over Vienna.[27] Amber And Gold would be self-released by the band on 16 November 2018 and would see mostly positive reception from the likes of Stoner King,[28] Distorted Sound Magazine[29] and Maximum Volume Music.[30] In an interview with Mayhem Radio UK Greenaway would explain how she joined the group and the process of recording Amber And Gold:
"
"My name is Siân Greenaway, I'm from Birmingham in the West Midlands in England. Before Alunah id never been in a proper band that had a full set list or even did live shows. I saw on Facebook through a mutual friend of the bands that they were auditioning for a new singer. I'd recorded one track with a previous band and sent it over for the guys in Alunah to listen to, they liked my sound and invited me to come and audition. I learnt 3 songs which were,Fire of Thornborough Henge, Heavy Bough and White Hoarhound, we played them together in the practice room and everything clicked into place.

[On writing and touring the new EP]With writing the EP we just started bringing in riffs and jamming with them to see what came out of it. There's very much a Viking theme with the tracks, subtly in the lyrics, in the sound of the songs and has a lot of folk influences in the melodies. Touring the new EP has been great, we've had a wonderful response and it's made us eager to press on and write a new album. So in 2019, you'll be hearing Alunahs 5th studio album and I'm so excited to be a part of this. Bring it on."

"
 

— Siân Greenaway, Mayhem Radio UK

[31]
On 24 February 2019 it would be revealed that Dean Ashton (Diamond Head) would take over on guitar, replacing David Day. Notably this would leave drummer Jake Mason as the sole founding member.[32] A string of UK shows would be announced, including May gigs and a July UK run supporting The Obsessed.[33] On 14 June 2019 it would be revealed that the band had been recording at Welsh Foel Studio[34] and on 20 June the artwork would be revealed for the band's fifth album.[35] Drummer Jake Mason would praise the smoothness of the recording process with the current lineup in an interview with Moshville.[36]
Signing to Heavy Psych Sounds, Violet Hour would be released on 11 October 2019 to positive reception from The Obelisk,[37] Ave Noctum,[38] Wonderbox Metal,[39] Distorted Sound Magazine[40] and The Headbanging Moose[41] to name a few. Alunah would tour that fall in support of Violet Hour including appearances at select editions of Heavy Psych Sounds Fest. The next year Alunah would tour the UK alongside Mondo Generator.
Discography
Edit
Studio Albums
Edit
Call of Avernus (2010, Catacomb Records)
White Hoarhound (2012, PsycheDOOMelic)
Awakening The Forest (2014, Napalm Records)
Solennial (2017, Svart Records)
Violet Hour (2019, Heavy Psych Sounds)
Other Releases
Edit
Crystal Voyage (EP; As Aluna) (2007, Self-Released)
Fall To Earth (EP) (2008, Catacomb Records)
Song Of The Sun / Halo (Promo Single) (2008, Self-Released)
Song of The Sun / Mephistopheles (Split with Queen Elephantine) (2009, Catacomb Records)
Amber And Gold (EP) (2018, Self-Released)
Current Lineup
Edit
Jake Mason - Drums (2006 - Present)
Dan Burchmore - Bass (2013 - Present)
Siân Greenaway - Guitar, Vocals (2017 - Present)
Dean Ashton - Guitar (2019 - Present)
Past Members
Edit
Andy Barnett - Bass (2006 - 2009)
David Day - Guitar (2006 - 2019)
Sophie Day - Guitar, Vocals (2006 - 2017)
Gaz Imber - Bass (2009 - 2013)
List of Known Tours
Edit
2007 Debut Gigs (With Asteroid) (2007)
2009 England Mini-Tour (With Doomraiser) (2009)
April 2010 UK Tour (With Sun Gods In Exile) (2010)[42]
Call of Avernus UK Tour (With Bastard of The Skies) (2010)
Doom Over London (With Lord Vicar) (2010)
August 2011 UK Shows (With Sally) (2011)
White Hoarhound European Tour (2013)
May 2014 UK Tour (2014)
Awakening The Forest European Tour (With Lonely Kamel, The Order Of Israfel, Mars Red Sky depending on dates) (2014)
April 2015 Ireland/Wales Tour (2015)
Solennial UK Tour (2017)[43]
Solennial European Tour (2017)[44]
2018 European Tour (2018)[45]
Harvest-Doom 2018 (2018)[46]
UK Tour 2019 (With The Obsessed) (2019)[47]
Violet Hour Live 2019 (2019)[48]
UK Tour 2020 (With Mondo Generator) (2020)[49]
External Links
Edit
Official Links
Edit
Archival Links
Edit
References
Edit
Community content is available under
CC-BY-SA
unless otherwise noted.