2010 European Tour


Tour of
Ahkmed
Year
2010
Start date
7 April
End date
17 April
Shows
8
Region
Germany, The Netherlands
Ahkmed tour chronology
2010 European Tour
(2010)
2010 European Tour is a tour by the Australian post-stoner/space rock trio known as Ahkmed. Notably this tour was in support of their debut album Distance, released in November 2009 and is the band's only known tour, spanning seven dates in Germany and the closing date headlining the Bat Cave stage at Roadburn Festival.
7 April 2010 - KFZ, Marburg, Germany (With Karma To Burn, Year Long Disaster)
8 April 2010 - Underground, Cologne, Germany (With Karma To Burn, Year Long Disaster)
10 April 2010 - Kafe Kult, Munich, Germany (With Los Natas, Fatso Jetson, Colour Haze, Oak's Mary; Grand Blitz III Festival)
13 April 2010 - Schutzenhaus, Finsterwalden, Germany
14 April 2010 - Molotov Club, Hamburg, Germany (With Los Natas)
15 April 2010 - Cairo Jugend Kulturhaus, Wurzburg, Germany (With Jex Thoth)
16 April 2010 - Piano Musiktheater, Dortmund, Germany (With Brant Bjork, Vibravoid)
17 April 2010 - 013 (Bat Cave), Tilburg, Holland (Roadburn Festival)
John-Paul Caliguiri - Drums, Vocals
Carlo Iacovino - Guitar
Dan McNamara - Bass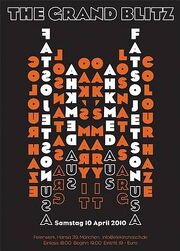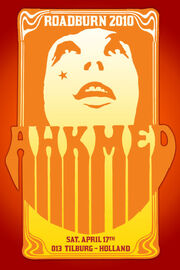 Community content is available under
CC-BY-SA
unless otherwise noted.